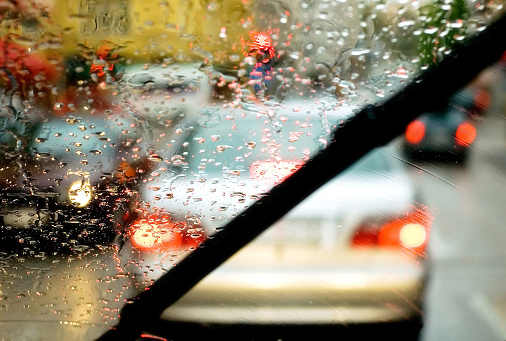 Are you planning on traveling this holiday season? Unfortunately, the weather may not cooperate with your agenda. Specifically, rain can make driving difficult—even dangerous—as you set out to meet up with family and friends.
To help ensure you're safe on the road, the team at Lucky Dog Auto Glass has put together a list of tips for rainy weather driving. Take a look!
#1 Always check your vehicle before leaving
Before you head out this holiday season, check your vehicle's equipment. This includes headlights, tires, taillights, and windshield wipers. While you want these parts to work efficiently at all times, it's even more important that they're up to par during rainy weather.
#2 Don't forget to use your windshield wipers
It seems like common sense, right? Use your windshield wipers in the rain. However, when it's only lightly raining, many drivers forget to activate their wipers. With most automobiles, you can adjust the speed of your wiper blades—so, it doesn't matter if there's a sprinkle or heavy downpour, you can find a setting that works for your needs.
Additionally, there are products available for your windshield that can help avoid the collection of rainwater.
#3 Keep a safe, steady distance between cars
As you likely already know, stopping your vehicle in the rain can be difficult. Therefore, it's best to maintain a safe distance from the car in front of you in case there is sudden braking.
#4 When necessary, slow down
Try to never be in a hurry when it's raining. In fact, in severe conditions, you should even consider driving slower than the posted speed limit. Again, wet roads are very dangerous; slowing down and stopping may take more time than usual and be more challenging. Of course, you can't be held responsible for other drivers' actions. Yet, if you're driving slowly, then you may have more time to react accordingly.
#5 Avoid braking too much
Try to avoid braking too much. When you do need to brake, don't slam on your brakes, as this could cause you to fishtail and hydroplane. Instead, try to slow your vehicle down gradually by taking your foot off the brake.
Further, don't use cruise control. This will allow you to keep the focus on using both the gas and brake, which is necessary when driving during a rainstorm.
#6 If at all possible, wait to travel until the weather clears
It may not always be a possibility, but if you can, wait to travel until the weather clears or at least clams down. It's important to feel comfortable behind the wheel, as nervous drivers are more prone to overcorrect their vehicles. Don't put yourself or others in danger if driving in wet conditions isn't fully necessary.
Contact Lucky Dog Auto Glass Now!
If you notice a crack or chip in your windshield, contact Lucky Dog Auto Glass to take a look at it before you head out on the road this holiday season. Not only do we offer free estimates, but our skilled and professional team will make sure your windshield is safe and secure for unpredictable weather conditions. Call us now at (253) 569-9403.